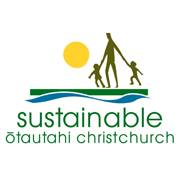 Sustainable Ōtautahi Christchurch (SOC) is an incorporated membership society, formed in 2005, which carries on the vision of two previous local voluntary organisations, Sustainable Cities Trust and Christchurch-Ōtautahi Agenda 21 Forum.
Former members of both those groups are involved, along with a new generation of Christchurch people, who work towards the bold vision of Christchurch people "practising, living and demonstrating sustainability in all that they do."
SOC's registered charitable aim, which recognises Te Tiriti o Waitangi/The Treaty of Waitangi as a foundation, is to actively contribute within Ōtautahi-Christchurch to opportunities and means for achievement of long term sustainability. In trying to make a difference, and head that direction, SOC members seek to:
ensure that all people have their basic needs satisfied,
so that they can live in dignity, in healthy communities,
while having the minimum adverse impact on natural systems,
both now and in the future.
Our Annual General Meeting, which elects an executive committee from the membership, is held in June.
Click here for information on the SOC Constitution.
Click here for details about how to join our email list, or facebook page, or to become a member
Committee Members
Chairperson – Colleen Philip
Sustainable Ōtautahi Christchurch looks to find core and critical pathways to a strongly sustainable future for Christchurch/Ōtautahi and our environs in partnership with other individuals, groups and agencies attempting to do the same.

After years spent trying to defend nature including as Chairperson of the North Canterbury branch of Forest & Bird for three years 2015-18 I have decided my time and energy would best be used in trying to help re-organise humanity so we pull back and give nature space; room to breath and survive. My work at Orana Wildlife Park crystallises for me the links from the local to the global.

SOC is a "think tank with attitude" that ACTS and it fits perfectly with my aspirations and ideas about work needed to shift humanity from our self- destructive path. Please join us.