In early October a SOC group gathered with others at John Faulkner's dairy support block on the banks of the Waiau Uwha river  to hear about and to see progress first hand toward his dream of establishing a nohoanga site on his property, and his 'big idea' of restoring the riparian margins of a significant stretch of the Waiau Uwha river in collaboration with others. 
John had gathered other local land owners, runanga representatives, and people with local history in the area along with our own group of so-called 'urbanites'.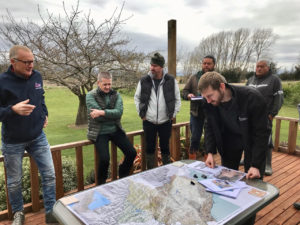 The love farmers and others have for their 'place' is palpable at times and was apparent that day. John's nohoanga development is in a sense a legacy project in memory of a dear friend. His dream of restoring a stretch of Waiau Uwha links to his love of braided river birds crystallised when he helped with a bird survey on the Waiau Uwha. 
Restoring indigenous biodiversity, an ability to access the river alongside a safe and sheltered place to camp, this will be a significant contribution to restoring Mahinga kai activities on the Waiau Uwha.
SOC wants to get alongside farmers like John and help in whatever way we can. If you have a particular interest in farming, and/or land use change to mitigate the climate and ecological crisis please contact Peter (seen here viewing the map showing the area planned for restoration work) or Colleen via info@sustainablechristchurch.org.nz.