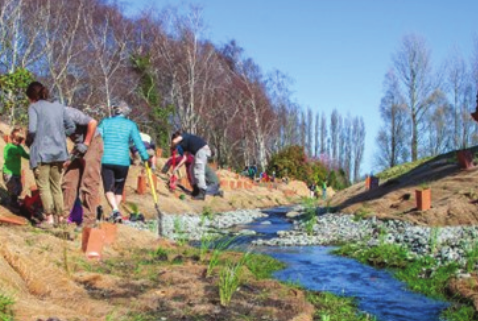 The Christchurch City Council recently launched a Community Waterways Partnership. This aims to support the development of community-based initiatives to improve the ecological health, indigenous biodiversity, and amenity value of our urban waterways.
The Partnership is connecting Council, Regional Council, Ngāi Tahu, DoC, Ministry for the Environment, Canterbury District Health Board, and organisations such as universities, schools, industry representatives, river care and other community groups.
In 2017, only 55% of Christchurch residents surveyed were aware that stormwater from roads and properties mostly leads to waterways, this highlights the need for community awareness-raising and engagement initiatives.
The SOC Executive invited Sally Airey, to discuss the Partnership at our recent Exec meeting and how we can be involved. We have concluded that signing on and supporting the charter is a great way for us to extend our community based environmental education. We will help spread their messages throughout our networks but also give them feedback on ways to best connect with our community.
For more information see:
https://ccc.govt.nz/environment/water/waterways/community-waterways-partnership
https://www.ecan.govt.nz/get-involved/news-and-events/zone-news/christchurch-west-melton/coming-together-to-improve-christchurchs-urban-waterways/
https://www.healthychristchurch.org.nz/news/signatory-notice-board/2021/3/coming-together-to-improve-christchurchs-urban-waterways