These notes are from a "Restoring a Kind Climate" workshop held on the evening of 27 June 2019 at the Christchurch City Council building.
The purpose of the workshop was to provide community input into the Climate Smart Strategy review 2019, in particular to suggest practical pathways for achieving climate change mitigation goals and targets for the city. The notes are for one of the 8 topics discussed that evening.
Key Underpinning Concepts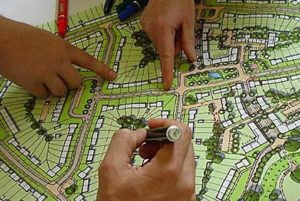 All concepts and ideas, whether technological or other, must align with these key underpinning concepts. If the ideas do not fit with these concepts, then the ideas are insufficient.
Planning for Community

– by the community

Successful urban planning will facilitate the creation of caring, inclusive communities
There must be community involvement in the design process
Planning must be CCC lead (with community involvement) and not developer lead

Make it great for its residents

Tourism should not be the primary focus
If it is a great place to live, people will want to visit anyway

All planning must consider

climate and ecological disruption

– it is not optional
All planning concepts must be assessed with the question:

"is it good for the children and the elderly?"

(8 80 rule – https://www.880cities.org/) – keep in mind "kindness"

Green spaces

are essential for physical and mental health and must be part of any plan and accessible easily by all (short walking distance)

Include ample trees to provide carbon sequestration
These spaces must be designed to provide shelter from wind and adverse weather
Recommendations
Some recommendations based on the key areas of focus below are outlined here.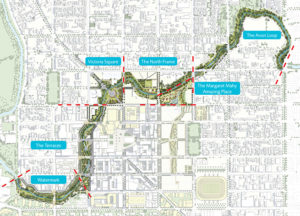 Create a strategic plan for Christchurch, integrating land use, transportation and urban planning aspirations over the next 30 years, bearing in mind the Urban Development Strategy (UDS).
Review the district plan to enable sustainable development

Enable density, mixed use and co-housing to occur naturally especially around hubs and in the CBD
Remove minimum parking requirements

Continue to push for alternative transport options to private vehicles

Significant PT investment required
Compromise less on cycle lanes
Use 8 80 concepts to ensure walkability
Consider which other modes should have a place in Christchurch, such as micro mobility, car sharing and ride sharing

Stadium and metro sports precinct

Investigate ways to reduce the proposed parking supplies
Incorporate mixed use into stadium to ensure it gets used on a day to day basis
Key Areas of Focus
With the key underpinning concepts as the foundation or basis for the planning, the following key areas are the primary focus areas for change.
Integrate Urban Planning, Transport and Land use within council and the UDS areas

Rethink the Hubs

– shopping malls are our current public transport hubs and areas that people travel to, however for improved sense of community this needs to be rethought. Some ideas to be considered are:

Focus on creating "hubs" that will build community (community focused rather than retail)
Localise need satisfiers in each community
Restrict the footprint of community areas to bring people together
Find ways to bring homes into the centre of the city in order to revitalise the inner city with people (for example, spaces above businesses for homes) – this requires creativity on the part of council including things such as incentives (affordability) or alternative economic models (eg. patient capital). Keep in mind that as tourism decreases in the future, hotels may adapt to provide accommodation during weekdays for central city workers – planning must allow for this.
Create events/festivals/markets that draw people out of their homes and to their community hub
Think about hubs that include primary schools, clubs, meeting places, gardens, parks, community halls

Rethink Distribution Centres

– Lower carbon emitters such as rail and coastal shipping can be expected to become increasingly important and should be considered in future planning

Rethink Homes and Living Spaces

– Energy efficient homes must be a priority and needs to be facilitated

Encourage smaller homes (remove the ability for developers to set a minimum size for a new home – instead they can specify a minimum efficiency which is a truer indicator of a high end home)
Deal with the duopolies in New Zealand that make building materials more expensive than they should be
Set the example with council housing (low income families need low energy costs – eg. passive house standards)
Think alternative energy generation (but only after energy efficient homes are achieved to correctly scale generation) e.g. small wind turbines on roofs
Enable cohousing (there are proven models that could be duplicated if the system could be adapted to allow)

Rethink Use of Space and Resources

– Spaces and infrastructure should be used efficiently and ideally be multipurpose

Rethink large car parking areas – Find ways to encourage people to use alternative transport options to attend major events so car parking can be reduced
Mix residential and business areas (homes above retail or offices)
Think about multi-use of all spaces – spaces that are only used at certain times should be coupled with other uses to better make use of infrastructure
Include the growing of food in the city (community gardens or in public spaces), collecting and using rainwater
Plan for a future where water recycling and conservation is needed and address potential sources of contamination

Rethink Locations

– Plan for sea level rise and develop along transport corridors (eg railway)

Allow for denser living spacing
Provide innovative funds/plans for staged sea level retreat of residents
Look at locations of sewer ponds in the light of sea level rises

Rethink Transport

– Enable options that reduce the number of cars on the roads

Improve cycle infrastructure (should be designed by a cyclist – safety a priority)
Increase the number of pedestrian streets
Provide weather protection for those walking/cycling
Facilitate transport sharing options

Improve Communication

– There are often great initiatives happening that people would love to be part of or integrate into their activities but they don't know about them. Improve communications to facilitate greater uptake of climate focused initiatives.