The week of the 20th-27th is a whole week of climate action, and we are wanting to drum up as much awareness as possible! The week starts with an event at Turanga on 20 September and finishes with the Strike4Climate rally on 27 September at Cathedral Square.
Above all please vote in the Local Body Elections – papers should arrive in your letterbox from during this week.
6pm 20 September – Our Climate, our Water, our Common Good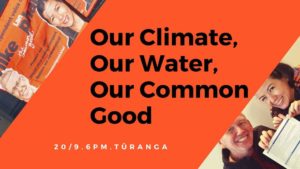 Join The Common Good team in the TSB space at Tūranga as we hear from five fantastic speakers on climate, water, and sustainability. A great opportunity to hear from people who are really making a difference in our community in the climate space — in food resilience, transport, bridging the urban rural divide, and saving our water.

Speakers include: Sam Mahon (water and climate), Peter Wells (food resilience and climate), Glen Herud (agriculture and climate), Lucy Gray (people power and climate), Axel Wilke (transport and climate), and MC Lan Pham! Please direct any questions along to hello@thecommongood.kiwi.
Please share and invite your friends and family!
Strike4Climate 27 September
Young people are calling on all of us to join them. In Christchurch 1-3pm at Cathedral Square on 27 September