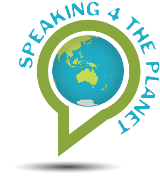 Celebrating World Environment Day
Speaking 4 the Planet (S4P) is a public speaking, spoken word and visual arts competition. It was created to provide opportunities for students to express their ideas for a better world. It was made possible through valuable support and funding from Environment Canterbury and local businesses.
The Speaking 4 the Planet competition aimed to provide a platform for young minds to express their concerns, insights, and creative interpretations regarding environmental issues through a range of mediums such as prepared speech, spoken word and artistic expressions. The event was open to students from all schools across Waitaha Canterbury with most entries coming from within the greater Christchurch area. The theme for this year's competition was 'Enough Already! Consume with care' and was aimed at encouraging the young people to actively engage in thinking about how consumerism has impacted the planet in relation to such things as environmental sustainability, climate change, ocean pollution, conservation, and biodiversity.
The results of the Friday 11 August 2023 competition day at Tūranga are here.
Since 2013, high school students in NSW, Australia have been participating in S4P competitions. Educator Phil Smith created the competitions as a way of highlighting World Environment Day, which is run by the United Nations Environment Programme.
Thank you on behalf of the organisers (Sustainable Ōtautahi Christchurch and NZAEE, Christchurch Branch) to our wonderful sponsors and supporters.