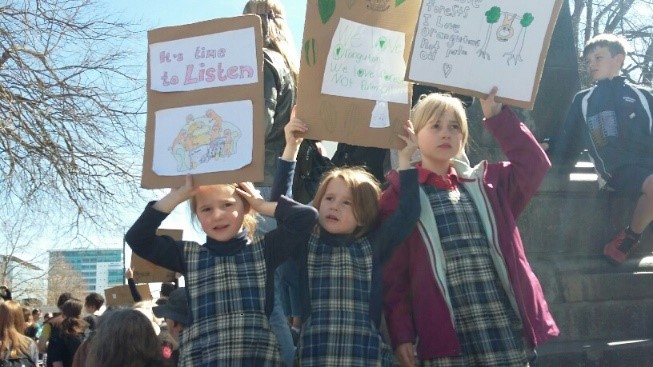 Amelie Miller, age 8 years old of Waimairi School, has campaigned to raise awareness about the use of Palm Oil. Amelie was horrified to learn we may no longer have Orangutans and other species in the future due to deforestation for palm oil plantations. She learned 50% of the products in our supermarkets contain palm oil and they don't have to say palm oil in the ingredients.
Amelie has taken every opportunity to raise awareness including the following actions:
attending the Student Strike for climate change with a sign she made specific to Palm Oil. (pictured with her younger sisters)
showing her class the Rang Tan in my bedroom you tube video and answering children's questions about palm oil products.
designing a colouring in page to give her class stating "No Palm Oil". This page is included below.
at the school fun run she wore the coloured in page. All kids wearing the page cheered for each other, cheering "Go No Palm Oil!"
organising a mufti-day for the whole school. Children wore mufti and brought supermarket products, they wanted to know if it has palm oil. Some year 6 children photographed items. These items are to be posted on a Facebook page, Palm Oil in New Zealand. Amelie manages this page with adult supervision. This is a child friendly page. (Please click on the underlined link and join us in the discussions about different products and brands as well as new information.)
Colleen, our SŌC chair and representative from Orana Wildlife Park came to Waimairi school to talk about animals at Orana Wildlife Park affected by Palm Oil.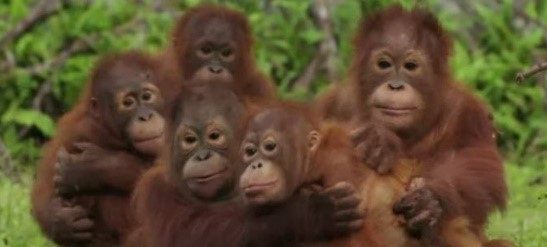 Amelie was able to connect with Miguel of year 6. Miguel is equally passionate and was able to show everyone a free app to help identify some palm oil products. Miguel has also made an informative Palm Oil Solutions video and he visited all the classes at Waimairi School to share the video. Orana Wildlife Park support the video and the video will be on display at Orana Wildlife Park. (Please download the app and view the video in the underlined links above)
This has been an amazing campaign and it is common to hear children at lunch time discussing whose lunch may have Palm Oil. Parents comment on grocery shopping decisions. Amelie and Miguel have been strong and compelling messengers and Sustainable Ōtautahi are pleased to be able to support them with this project.
Amelie and Miguel are now getting together to create an information board for the general public. This will be displayed at the Christchurch Botanical Gardens Kiosk, occupied by the Christchurch Horticultural Society, recently joined by the Christchurch EnviroHub.
Perhaps you could print off this Orangutan image for your kids to colour in. There are some Orangutans currently visiting Orana Wildlife Park, but they return to Auckland Zoo in mid-January. Don't miss seeing them.