Some fantastic sustainability education materials are now available on-line free, thanks to a grant from the Ministry for the Environment's Waste Management Fund.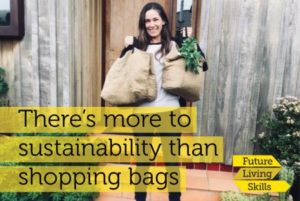 Future Living Skills is the new national edition of the Sustainable Living Programme, earlier versions of which have run locally by 14 participating councils. Future Living Skills supports lifestyles and consumer choices that generate less carbon to the air, less waste to landfills and less pollution to rivers.
From the eight learning guides, see how to make a healthier, drier and warmer home and how you can easily reduce your waste to landfill. Other topics to explore are: organic food growing, water use efficiency, avoiding toxic chemicals, food shopping and preserving tips, and how to reduce your power bill. The learning guides include eco-building house design and renovation ideas, lower-carbon transport options, and community resilience in emergencies. All have a practical focus and are independent of commercial bias.
"Future Living Skills begins with reducing waste and protecting waterways, and goes beyond. Our learning guides help you to understand lower-carbon living, in your energy, travel and food choices and decisions made when homes are designed or renovated,"

National Coordinator Rhys Taylor
Evening courses and public workshops will be available through the member councils that have driven the programme in their districts, and others are invited to follow suit.
The Sustainable Living Education Trust, which runs the programme, will help councils to recruit and train facilitators and tutors, assisted by the grant from the Waste Minimisation Fund (up to $77,000 spread over three years, or 43% of project budget). Future Living Skills gathers and presents useful information from reputable sources to support behaviour change and consumer choices. Member councils fund and check programme content, support local courses and can provide geographically-specific information. (For some examples see member councils page https://sustainableliving.org.nz/SLP/Councils for Hauraki, Christchurch, Dunedin, Timaru.)