Big thanks to everyone that came along to the Hire Pool Big Beach Clean on Saturday to kick off Sea Week!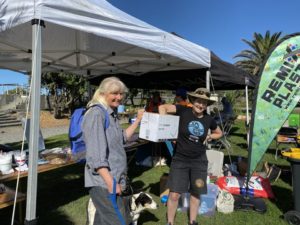 Jocelyn (Christchurch Sea Week organiser) had the honor of drawing our competition – entrants drew something they think they may see on the Sea Week Cycle (happening this Sunday) or wrote about why plastic is a problem for our marine life.
The prize was a Stojo collapsible cup from The Rubbish Whisperer. Congrats to our Rangiora winner that came all the way to Sumner to help us clean up our coast!
Thanks to Sustainable Coastlines, Remix Plastic, Algalita South Pacific and all the volunteers.